---
SEMIHUSKED COCONUT
SemiHusked coconut from our country is very popular and the quantity is available through the year. So never worried about the coconut availability in Indonesia, since Indonesia is the world's number one coconut producing country
DRIED COPRA
Dried Copra for Oil and Food industries, and also available for Edible Copra for consumption. Moisture content 5-6%. Natural and fresh quality, shelf life : 10 months


CRUDE COCONUT OIL (CNO)
Moisture & Impurities : max 0.5
Free Fatty Acid : max 4%
Colour : 4-12 RED
Iodine Value (Wijs) : 7.5 - 10.5
​
Crude Coconut Oil, internationally called Crude Coconut Oil (CNO), is the final product of squeezing oil from copra (dried coconut meat) using an expeller machine and then refining it to remove impurities / contaminants. Coconut oil has mild properties on the skin, so it is used as a moisturizer. Can be used as a cleaning agent and sun protection. Therefore, it is often used as a raw material for oleochemicals, soap making, shampoo and cosmetic products.
BRIQUETTE CHARCOAL
Moisture : <5%
Ash : 3-4%
Ash color : bright color
Volatile meter : <12 %
Fix carbon : >80 %
Calories : > 7400 Kkal
Heat temp : > 500 Celsius
Density : High Density 0.988 gram / cc
​
We are very concerned in every single step for the best result. Our size is based on customer need ( 2,5 cm x 2,5 cm x 2,5 cm / 2,5 cm x 2,5 cm x 1,5 cm / 2 cm x 2 cm x 1,4 cm, etc). We only choose the best coconut shell charcoal for the ingredients, the ash must be white. We really pay attention from the beginning ( the labours works until they package it ) until our goods perfectly ready to delivered. We are welcome for any visit to our factory.
COPRA MEAL
COPRA MEAL is a dried ground product derived from copra (coconut) after oil has been extracted using a mechanical extraction process. COPRA MEAL is a very palatable protein meal, high in fibre, and therefore is an ideal feed component for sheep, cattle horses and sows. The protein in copra has a very high by-pass capability and the starch component is low. This makes it a very useful and safe feed for inclusion in feedlot rations. Copra is also a useful ingredient in pig and poultry diets.
​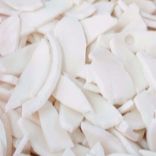 FROZEN COCONUT MEAT
​
Frozen coconut can be processed, packaged and shipped to customers all over the world. Our frozen coconut is fresh coconut meat that has 8-15mm in thickness, we remove brown skin then cut into pieces then package. Within 3 hour the coconut meat is chilled in cold storage up to -18 degree Celcius